台灣藝術家英文簡傳(9)---畫家張萬傳
Painter Chang Wan-Chuan(張萬傳)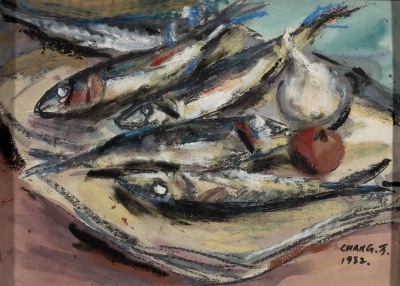 編輯/邱斐顯
Editior/Felicity Fei-Hsien Chiu


A note on Painter Chang Wan-Chuan(張萬傳):
Chang Wan-Chuan was one of Taiwan 's important artists of the senior generation and studied Western painting in Japan . He was born in Damshui in 1909, and passed away at the venerable age of 95 in 2003.
Looking back on the creative trajectory of this artist's career, one can more clearly see the broad outline of the historical development of art in Taiwan .

The painting style of Chang Wan-Chuan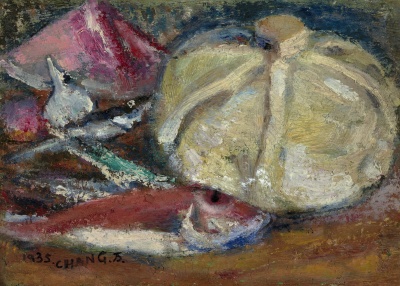 Chang, a prolific painter, often used unrestrained and heroic brush strokes to present his emotional view of the world, emphasizing an aesthetic fusing color and form and borrowing techniques from both Les Fauves and Expressionists.
His style was grand and powerful, with quick and easy brushwork that portrayed a lively spirit is his paintings. While Chang primarily painted landscapes, still lifes and figures, it is especially interesting to see the virtuosity of drawing in his quick sketches.
The affection he had for ancient houses, Western buildings and landscapes in his early period won him the honor of inclusion in the Taiwan Fine Art Exhibition and Taiwan Government Fine Art Exhibition.

Small work, great explanation.
Chang's early canvasses tended to be small due to his straitened financial circumstances at the time; however this did not detract from the beauty of these paintings. Because of his limited access to material, he often just used what was available, like wooden boards or cardboard to serve as his painting surfaces, which was indicative of the enthusiasm and dedication of the artists of his generation.
Chang relied on concrete material objects for all of his paintings, including landscapes, still lifes and figures, yet his assertive and penetrating intuition retained the special characteristics of his time.
Chang traveled all over to make his paintings -- from Hsiamen scenery(廈門風景), to the White Building in Damshui(淡水白樓), to Japan and Europe. In 1975, at the age of 66, he traveled to France and Spain to expand his vision, and also to make a lasting record of the ancient historical buildings of Europe .

Loving fish, painting on the dinner table.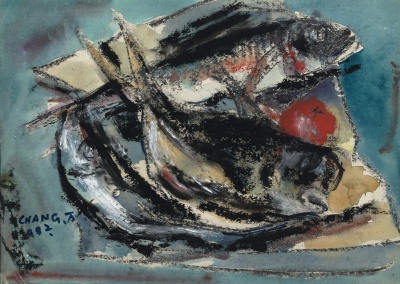 Because Chang loved fish, not only for their flavor but also for their variety of colors, shapes and lines, he often used them as the subjects of his paintings, and captured their vitality in his nimble and powerful painting style. Once, with his eye fixed on the dinner table, he excitedly drew on a piece of paper a vivid rendition of a fish, a moist chopstick, cigarette ash and soy sauce. He expressed his powerful passions with seascapes, the highly inflected lines of the female form, other fascinating subject matter, and especially his birthplace Damshui.
Chang Wan-Chuan's temperament comes through faithfully in his paintings, and his confident brush strokes were thoroughly informed by his vitality for life. He did not confine himself to objective realism, but rather took life itself as his example, subjectively and individually making use of the brush to reinforce the visual tension in his work.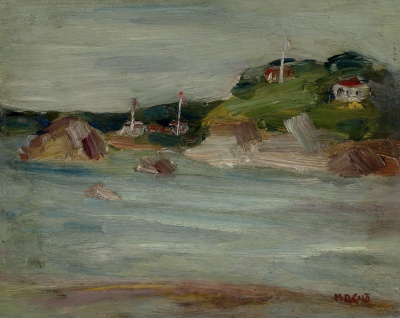 He often brandished a large brush and made bounding marks with red and black paint and then added blue, green and yellow among the main brush strokes, using lush textures to convey his perceptions of the world and feelings at the moment. When sketching, his most direct method of expression, Chang used succinct, resolute lines to boldly describe forms and juxtaposed them with watercolor washes, harmonizing colors and shapes. Different subjective feelings often burst forth from Chang's brush when he was painting similar themes in different times or places. His themes repeatedly explore a passion for theatricality, transcend objective visual analysis and establish his unique creative style.
Photo courtesy of Taipei Fine Arts Museum
The above information is edited by Felicity Fei-Hsien CHIU(邱斐顯), former editor of center of web and wireless news service, the Central News Agency.