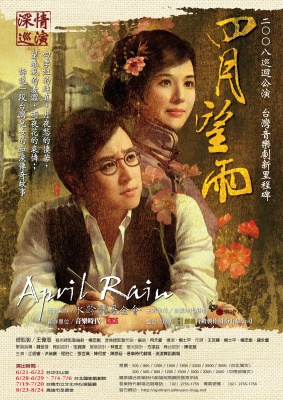 Taiwan
Musical "April Rain" 2010 Performance Tour
(「四月望雨」音樂劇)

Date: 2010 May 7th~ May 9th
Time: May 7th (Friday) 19:30 p.m.
May 8th (Saturday) 14:30 p.m.
May 8th (Saturday) 19:30 p.m.
May 9th (Saturday) 14:30 p.m.
May 9th (Saturday) 19:30 p.m.
Venue: National Theater (CKS Cultural Center in Taipei )

Editior/Felicity Fei-Hsien Chiu(邱斐顯)
Revised by Peggy Carr

A note about Taiwan musical "April Rain"

The musical "April Rain" is the first Taiwanese musical to recall a long-gone and almost forgotten period in the history of Taiwan, an era of blood, dreams, hopes, sweat and tears that comes alive through the compositions of the great Taiwanese composer Deng Yu-Shian(鄧雨賢).

This musical was named April Rain(四月望雨)based on the combination of the first Chinese character of four pieces of Deng's famous works -- "Love Song of Four Seasons"(四季紅), "Sorrow in a Moonlit Night"(月夜愁), "Longing for the Spring Breeze"(望春風), and "Flowers in a Rainy Night"(雨夜花).

Blending Deng Yu-Shian's own musical legacy with new pieces composed especially for this musical, "April Rain" tries to create a mesmerizing mixture of old and new styles.

"April Rain" was designed to be performed in four languages, namely Holo, Hakka, Japanese and Chinese. It premiered in June 2007 and will be staged a third time from June to August 2008. According to

Yang Chung-Heng
(楊忠衡)
, artistic supervisor of All Music Theater, it was the first Taiwanese Musical in Taiwan and in history. He said he hoped that
"
April Rain"

would herald a new era for musicals and theater performances in Taiwan.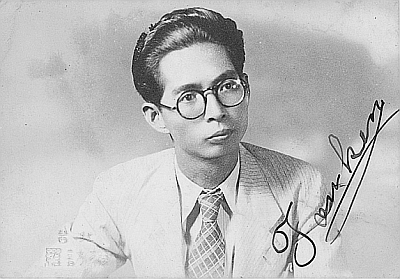 A note on Deng Yu-Shian (鄧雨賢)

The great Taiwanese composer Deng Yu-Shian, the "Father of Contemporary Taiwanese Music", wrote his famous folk melodies several decades ago, but much of his music is still very popular today.
From more detailed information, please check the following link. http://www.wretch.cc/blog/phesha0822/13638627

On November 29, 2002, in a memorable concert in Taipei , Placido Domingo, a world-renowned operatic tenor, sang "Flowers in the Rainy Night" in Taiwanese with the well-known Taiwanese female singer Chiang Hui. This particular work has acquired the status of a musical centerpiece at international cultural events in Taiwan .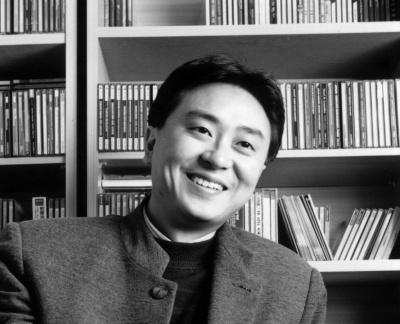 A note on Yang Chung-Heng(楊忠衡), playwright and artistic supervisor
Yang Chung-Heng, born in 1963, is currently the editor-in-chief of Allmusic Publishing Company and art director of Allmusic Theatre. Yang has held a number of positions in several organizations, listed in chronological order: vice editor-in-chief at "Audio Art", "Music Shopper" and "Art China" magazine; journalist at "China Times", founder and editor-in-chief of "All Music" magazine, musical director of "All Music Records;" and executive director of "Poco-a-Poco Music Education Foundation".

Yang is a prolific writer. He has written and translated several books and his music critiques and columns appear frequently in numerous journals. He is also a record producer, and won the National Golden Melody Award in 1999 for Best Producer of a Classical Music Recording.
Yang
is often invited to serve as a judge in many competitions and appraisal meetings. He started his stage career in 2003 as a playwright and an artistic director of Chinese musicals. His musical works include "Butterfly Loves" (2003), "Song of Love—Story of Madam Chiang Kai-Shek" (2006), "April Rain" (2007), "Immortal Homeland" (2008).

The members of "April Rain" are as follows: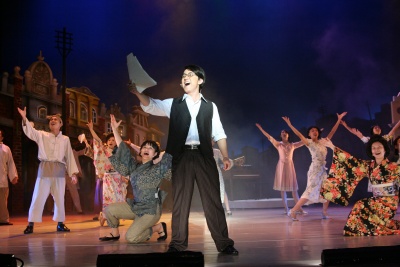 Chiang Yi-Jui(江翊睿)who graduated from the School of Medicine at Taipei Medical University, and despite his parents' objections, immersed himself in artistic performances after he graduated. He plays "Deng Yu-Shian" in this musical.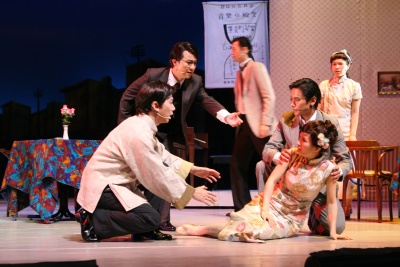 Hung Jui-Hsiang(洪瑞襄)is an experienced actress who is equally at home in Hakka musicals and Taiwanese Operas. She plays the female singer Chun-Chun.
Cheng Po-Jen
(程伯仁)
, a graduate of the Department of Dance,

National Taiwan University of Arts, plays Deng Yu-Shian's good friend Chen Chun-Yu.

Chang Shih-Pei(張世珮), who graduated from the Department of Chinese Music, Chinese Culture University as a vocal music major, is a piano teacher in real life. She plays Deng's wife in the musical.
Chen Ho-Chia(陳何家), a music lover, successful entrepreneur and president of Shin Shin Natural Gas Company, plays the Japanese柏野正次郎 who was in charge of Columbia Music Entertainment, Incorporated.

Shih Ying-Ying(史茵茵)earned a B.A. from the Department of Foreign Languages and Literature at National Taiwan University and an M.A. from Harvard University . This is her first role in "April Rain." She plays a female singer Ai-Ai, a good friend of Chun-Chun's.
For more information about Taiwan Musical "April Rain", please check the official Web site

http://aprilrain.allmusic-mag.net/
Photo courtesy of Deng Tai-Chao, Yang Chung-Heng and All Music Theater